Anandabazar Patrika Hooghly Advertisement Booking Online at Lowest Rates:
Select Your Ad Format :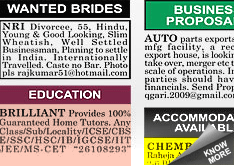 Economical, Simple Text. Charges per line/ word. Can be enhanced with Tick, Border & Bold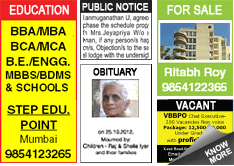 More Visible & Expensive. Include image, colour,font variations. Rate is charged on per sq.cm basis.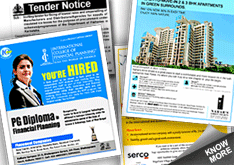 Most Visible & Expensive(Rs.20,000+).Used for premium positions & Sizes (Front Page,Full Page etc.
Customers top review
WE HAVN'T RECEIVED ANY RESPONSE
Thanks for the query. You can check the ad rates of Anandabazar Patrika from our website only. To book the classified ad in Anandabazar Patrika follow the steps given below: · Visit www.releaseMyAd.com · Select Anandabazar Patrika, ad type and category (...
Thanks for choosing releaseMyAd! Well, it's very easy to book ads with us in the leading Bengali newspaper Anandabazar Patrika. Please note matrimonial ads in ABP are published only on Sunday. To book the matrimonial ad in Anandabazar Patrika please follow the steps given below: ...
Please visit the ABP Announcement Ad Rates page to check the rates before booking an ad. This page will display all the rates for the individual editions of ABP as well as the discount packages. Click on the Book Now option adjacent to the relevant location to confirm us that you're convinc...
Anandabazar Patrika Hooghly Classified booking Center
ReleaseMyAd Media Pvt.Ltd.
CS Mukherjee St, Konnagar, ,Hooghly-Chinsurah, West Bengal ,712235
Book an Ad
Additional Information
About releaseMyAd
Book an Ad
Booking Classified for Anandabazar Patrika Hooghly Now Online at releaseMyAd
Booking classified ads in Anandabazar Patrika Hooghly now at your fingertips courtesy online Anandabazar Patrika ad agencies in Hooghly like www.releasemyad.com
Advantages of book classified ads for Anandabazar Patrika Hooghly Online :
1) Instant online classified ad booking of recruitment, property, matrimonial for Hooghlyedition of Anandabazar Patrikain 3 simple steps.
2) Enhance your Anandabazar Patrika Hooghly newspaper ad by choosing tick, screen etc.
3) Clear payments instantly via online and offline payment mediums to receive immediate confirmation for your newspaper classified in Anandabazar Patrika Hooghly.
Additional Information
Why Choose releaseMyAd for booking classifieds in Anandabazar Patrika Hooghly?
releaseMyAd.com is an INS accredited & India's Most Used Online Classified Ad Booking Portal. No need of wasting hours searching for Anandabazar Patrika ad agency in Hooghly when you can do the same online at lowest cost.
releaseMyAd gives the unique opportunity of booking classified ads in Anandabazar Patrika Hooghly at lowest rates from anywhere at any time of the day.
Enjoy discounts and exclusive rates for Anandabazar Patrika Hooghly only when you choose to book ads Anandabazar Patrika Hooghly online through releaseMyAd.
Book your Anandabazar Patrika Hooghly advertisement Now !
About releaseMyAd
releaseMyAd is India's simplest classified booking service! Through our service you can book classified Ads for all leading Indian Newspapers – at no extra charges!
We are fully accredited by the Indian Newspaper Society (I.N.S.) - the primary governing body for all media publications. Furthermore, we have exclusive tie-ups with newspapers that enable you to release ads at the same cost as the newspaper in addition to enjoying special discounts!
You can book your Newspaper Ad instantly for any category such as Matrimonial, Property, Recruitment, Automobile, Travel etc. We accept both online and offline payments for advertisement bookings. Online payment options include Credit/Debit Cards & Net Banking (All Indian Banks), and offline options include Demand Drafts, Cheques and cash payments.
Contact us at:
questions@releasemyad.com
+91 33 4031 1111 (24 hours, Monday-Sunday, Standard STD/Local charges apply)