Welcome to Anandabazar Patrika Newspaper Ad Booking Portal. Use this portal to book any Newspaper Ad instantly online for Matrimonial, Property, Recruitment, Public Notice at the lowest rates. Pay via Credit Cards, Debit Cards, UPI, Net Banking or Cheque.
Anandabazar Patrika is the leading Bengali language- a daily newspaper with a circulation of over 1.1 million. It is owned and published by the ABP group. The newspaper publishes latest news on national and Global affairs, sports, business, entertainment, technology, science, health etc. Anandabazar Patrika is read mostly in the Bengali households as it upholds the tradition and culture of Bengal. The newspaper earned utmost popularity for its matrimonial, recruitment and property classified ads.
Over the years Anandabazar Patrika has maintained a fair editorial policy which has eventually helped them to create a strong brand name for itself. So it has been the first choice of every advertiser(especially for classified ads) who wishes to reach out to the Bengali speaking community.
---
Ad Formats In Anandabazar Patrika :
Ad Type
---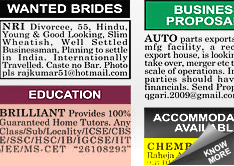 There are two types of classified ad such as Classified Text Ad and Classified Display Ad. Classified Text Ad is the most cost-effective forms of advertising in any Newspaper. The Ads appear in the classified section in the standard running text format. Rate is charged per Line/Word/Character basis. Enhancements like tick mark, colour, bold font, border lead to extra charges. Classified Display Ad is more visually appealing than classified text ads. Here one can add customized font, colour, logo or image to make the ad visually more effective for the target readers. These ads are charged on the basis of per sq.
Display advertisements are the most extravagant form of newspaper advertising. They can be published on any page and can occupy any amount of space in a specific newspaper page.
---
Select The Anandabazar Patrika Supplement To Advertise Under:
AD SECTIONS
---
---
Anandabazar Patrika Ad Booking Centers :
LOCATIONS
---
Why advertise in Anandabazar Patrika Newspaper ?
---
WHY ADVERTISE IN
Anandabazar Patrika

NEWSPAPER?
---
As we all know that Anandabazar Patrika, owned and published by the ABP group, is the leading Bengali language daily newspaper. The daily circulation figure counts over 1.1 million. Now to add on to your trust while selecting this platform to advertise, releaseMyAd shall disclose the benefits of advertising in Anandabazar Patrika .
Extensive reach: This newspaper has an exceptional coverage within the state of Bengal covering Bankura, Birbhum, Hooghly, Howrah, Kolkata, Kolkata (Sunday), Krishi Burdwan, Medinipur, Murshidabad, Nadia, North & South 24 Pgs and Purulia.
Low Budget and Cost-Effective- Anandabazar Patrika is an economical platform.to advertise. The exclusive offers and packages offered by this publication makes advertising very much pocket-friendly.
Easy Deadlines- releaseMyAd helps the advertisers to book ads instantly.So, if you need your ad to be published immediately after booking, call us at 09830629298.
Huge Category Options- You can select any suitable category from various options available. Each category of Anandabazar Patrika is further divided into subcategories. This makes advertising for specific and subjective.
Multiple advertising options- Avail variety of options for advertising, such as text and classifieds display for small and medium traders and display ads for big-budget brands.
With all these add-ons, this newspaper have become the first choice of every advertiser who wishes to reach out to the Bengali speaking community.
View Anandabazar Patrika Ad Rates for :
ADVERTISEMENT RATE
---
---
How To Book An Ad Anandabazar Patrika Newspaper?
---
HOW TO BOOK AD IN
Anandabazar Patrika

NEWSPAPER?
---
releaseMyAd shall help you to book ads in Anandabazar Patrika in the easiest way. Book your ad by following the below steps-
Select a suitable category for your ad in Anandabazar Patrika
Select ad type from classified text, classified display and display
Select any suitable ad booking package or any specific edition to book your ads in this leading Bengali newspaper
Next, proceed to compose ad or you can upload your own designed matter in case of classified display or display ads.
Select a suitable sub-category under the main heading
Finally, proceed to select the release dates and make payment using any of the various payment modes available with us.
Yes! It is indeed that easy. So, stop waiting and proceed to book Anandabazar Patrika with releaseMyAd now!
On effective payment, you'll receive a statement with all your ad booking and payment details. Your ad is ready to be printed on the specified date(s) once it passes through the editorial endorsement policies of Anandabazar Patrika.
ReleaseMyAd, an online ad booking agency provides you with a platform to check ad rates, circulation details and various discount offers for booking classified and display ads straightaway.
We are India's trusted ad booking service providers. You can now book Classified Display and Text Classified and Display ads in one of the most popular Bengali newspaper, Anandabazar Patrika at a very low cost.
Having an experience in the field of online ad booking, we are fully accredited by the Indian Newspaper Society (I.N.S) – the primary governing council for all media publications.
You can publicize under Matrimonial, Obituary, Property, Recruitment, Education or any other category in Anandabazar Patrika under the following ad kinds or formats:
Classified Text Ads: Text advertisements are the simplest method of newspaper classified advertising. They are simple run online which can be heightened with the help of our online enhancements such as ticks, background colours, screen borders, etc. These adverts are charged on the basis of lines/words/characters used in the content of the ad.
Classified Display Ads: Display Classified ads, also known as column ads are a little more expensive than Text ads. These adverts can be altered by uploading images and logos and formatting font styles and sizes. CD ads can be published in coloured as well as Black and White format. Not only can you combine your Classified Display ad online with our pre designed templates but also upload your personally composed advert.
Display Ads: Display ads are the most expensive and elaborate form of advertising. Such adverts have a great budding for creativity. Professional advertisers can upload the design of their advertisement in PDF/ JPEG/ EPS format and simply specify their requirements.
For any more facts and queries about Anandabazar Patrika and the booking of your advertisement, please visit the Question & Answer Forum or Frequently Asked Questions section.